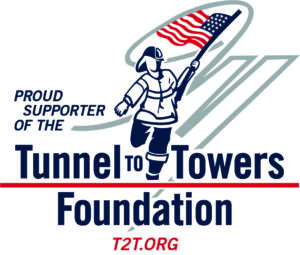 Atlas Air is proud to nominate the Tunnel to Towers Foundation as the featured charity for the 2023 Air Carriers Purchasing Conference being held in New York City. The Tunnel to Towers Foundation was founded to honor the sacrifice of Stephen Stiller, a heroic New York City firefighter who laid down his life to save others during the 9/11 terrorist attacks.
For over 20 years, the Tunnel to Towers Foundation has honored Stephen's legacy by supporting the heroes who continue to risk life and limb in the line of duty.
The Tunnel to Towers Foundation's charitable programs include:
Smart Home Program builds mortgage-free smart homes for our most catastrophically-injured veterans and first responders with each home designed to meet the unique needs of each individual.
Fallen First Responder Home Program pays off the mortgages of fallen law enforcement officers and firefighters who lost their lives in the line of duty, or due to 9/11-related illnesses, and leave behind young children.
Gold Star Family Home Program honors the legacy of those who made the ultimate sacrifice while serving our country by providing a mortgage-free home to surviving spouses with young children.
Veteran Homelessness Program provided housing & services to over 500 veterans in 2022 and plans to help over 1,500 veterans in 2023.
Tunnel to Towers 9/11 Institute is comprised of the 9/11 Curriculum, the "DiscoveringHeroes®" Book series, a 9/11 Speakers Bureau, the 9/11 NEVER FORGET Mobile Exhibit, and Russell F. Siller Memorial Scholarships. The Tunnel to Towers 9/11 Institute is how the Foundation is keeping its promise to "NEVER FORGET" those lost on 9/11 and the continued impact the attacks have on America and its first responders.
To date, Tunnel to Towers has delivered over 1,000 mortgage-free homes to our nation's heroes and committed over $500 million across all of our programs with over 95% of every dollar donated going directly to its programs and services.
Atlas Air is honored to support the Tunnel to Towers Foundation and, in partnership with the ACPC, to promote them in association with this year's event.
It's also important to share that the Tunnel to Towers Foundation organizes a National Run, Walk, and Climb Series, which has expanded to over 80 fundraising events annually. These events, as well as their mobile exhibit, enable communities across the country to participate in their mission to Never Forget.
Please visit the Tunnel to Towers website Tunnel to Towers Foundation (t2t.org) for more information.