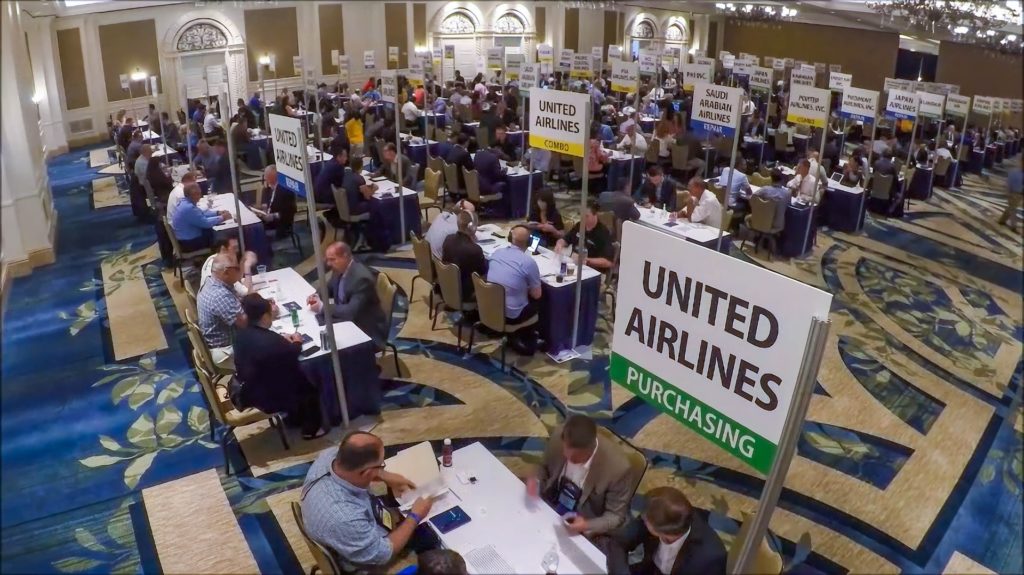 International Hall
A flagship event of the ACPC, Airline Roundtable meetings are considered to be one of the core ingredients that have made the conference so successful for 64 years.
Each Airline Roundtable Session is ten (10) minutes in length. A maximum of two supplier attendees from the same company may participate in each Roundtable Session.
Participating airlines will have representatives waiting at their tables to greet suppliers. Airline tables are clearly marked with the airline name, as well as the function of the representatives (i.e. Purchasing, Repair, or Combo). Some airlines may have multiple tables. The various options will be posted at the time of registration.
An up-to-the-minute listing of airlines participating in Roundtable Sessions, as well as their current aircraft fleets, will be posted on the ACPC website in the weeks leading up to the conference.
Airline Roundtable Sessions Schedule
Monday, September 13th, 2021
International Hall
10:00 AM – 12:00 PM
1:50 PM – 5:00 PM
Tuesday, September 14th, 2021
International Hall
9:00 AM – 12:00 PM
Sign-Up & Registration
Immediately after conference registration and badge pick up, which starts at Saturday September 11th from 8:00 AM – 12:00 PM in the Marquis Ballroom, each supplier company will have the opportunity to sign-up for Airline Roundtable Sessions.
Roundtable Sessions are scheduled on a first come, first served basis.
Saturday registration and badge pick- up queue times are determined by the order of online conference registration. Register early for the conference at www.acpc.com!