Thank-you to all who attended the 2023 ACPC! Be sure to mark your calendars for the 2024 ACPC taking place August 24 – 27, 2024 in Dallas, TX.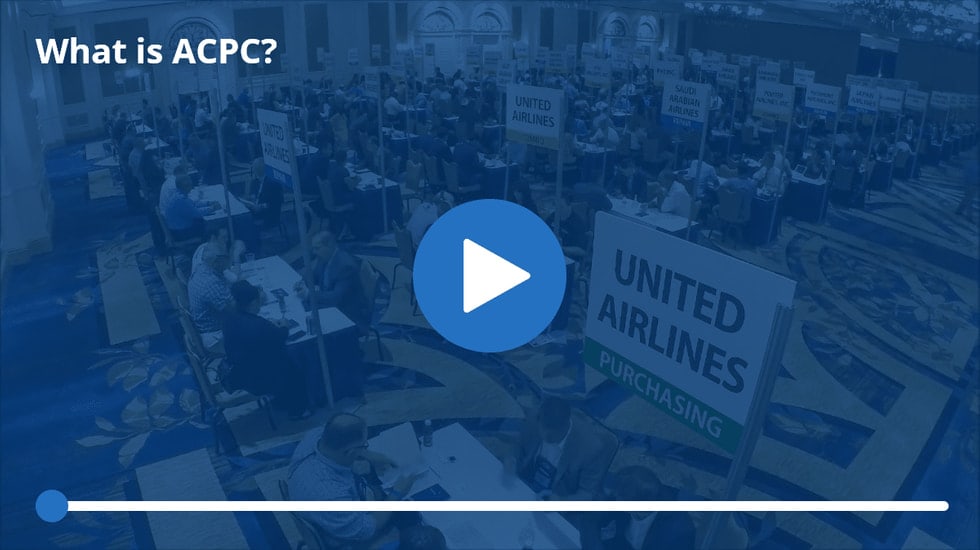 ---
Unlimited Networking Opportunities
Informative Professional Development Sessions provide unsurpassed opportunities to learn and network with other aviation professionals, making the ACPC the most productive aviation conference worldwide.
Read Conference Overview >
SAVE THE DATE !
Company Commitment begins Monday, May 8th, 9:00 AM ET
Individual Registration and hotel reservations begin on Monday, May 15th, 9:00 AM ET
The 66th annual Air Carriers Purchasing Conference will be held at the New York Marriott Marquis, in the heart of Times Square, New York City's premier destination neighborhood for dining, shopping and entertainment. Nearly 1700 participants attended the SOLD OUT 2022 ACPC in San Diego and we are anticipating an early sell out in 2023.
The conference dates are August 19 – 22, 2023. Supplier and Airline Company Commitment, ANF Booth Reservations, and Corporate Sponsorship purchase will begin on our website on Monday, May 8th at 9:00 AM ET. Individual Registration and hotel reservations open the following Monday, May 15th at 9:00 AM ET.
Your 2023 Supplier Chair, Tonya Wondolowski of Professional Aircraft Accessories, Inc., along with your 2023 Airline Chair, Althea Arvin of Atlas Air, the 2023 Board of Directors and the entire 2023 ACPC Supplier and Airline Committee is dedicated to making your attendance at this year's conference a relevant, valuable and safe experience.
Please add the 2023 ACPC conference to your calendar and travel budgets for the coming year.
Check back here for additional details and be sure to secure your Company Commitment early on our website beginning May 8th, 2023 at 9:00 AM ET for this year's conference.
Check out the 2023 ACPC Preview Video!
---