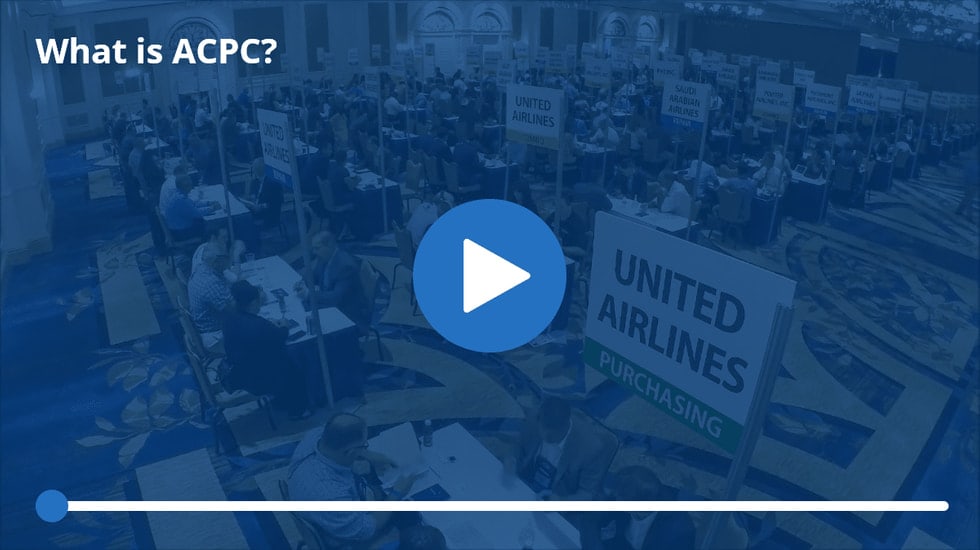 ---
Unlimited Networking Opportunities
Informative Professional Development Sessions provide unsurpassed opportunities to learn and network with other aviation professionals, making the ACPC the most productive aviation conference worldwide.
Read Conference Overview >
SAVE THE DATE !
Company Commitment begins Monday, May 6th, 9:00 AM ET
Individual Registration and hotel reservations begin on Monday, May 13th, 9:00 AM ET
We are thrilled to announce that the 67th Annual Air Carriers Purchasing Conference (ACPC) will be held at the iconic Hilton Anatole in Dallas' Design District from August 24-27, 2024. The hotel boasts an award-winning fitness facility, a stunning rooftop restaurant, and a breathtaking lobby filled with museum-worthy art and antiques. Last year's ACPC in New York City was a sold-out success with nearly 1700 participants, and we anticipate an equally successful event this year.
Supplier and Airline Company Commitment, ANF booth reservations, and corporate sponsorship purchases will open on our website on Monday, May 6th at 9:00 AM ET. Individual registration and hotel reservations will open the following Monday, May 13th at 9:00 AM ET.
Your 2024 Supplier Chair, Jay Bant, of HRD Aero Systems, along with Cheryl Webb, your 2024 Airline Chair, representing the airlines of Air Transport Services Group (ATSG), the 2024 Board of Directors and the entire 2024 ACPC Supplier and Airline Committee are dedicated to making your attendance at this year's conference a relevant, valuable and safe experience.
Add the 2024 ACPC to your calendar and travel budgets for the coming year! Don't miss out on this exciting opportunity to network and learn with industry leaders!
Check our website for additional details and secure your Company Commitment early at www.acpc.com beginning May 6th, 2024 at 9:00 AM ET for this year's conference.
The ACPC is the most productive aviation conference worldwide. 
Check out the 2024 ACPC Preview Video!
---