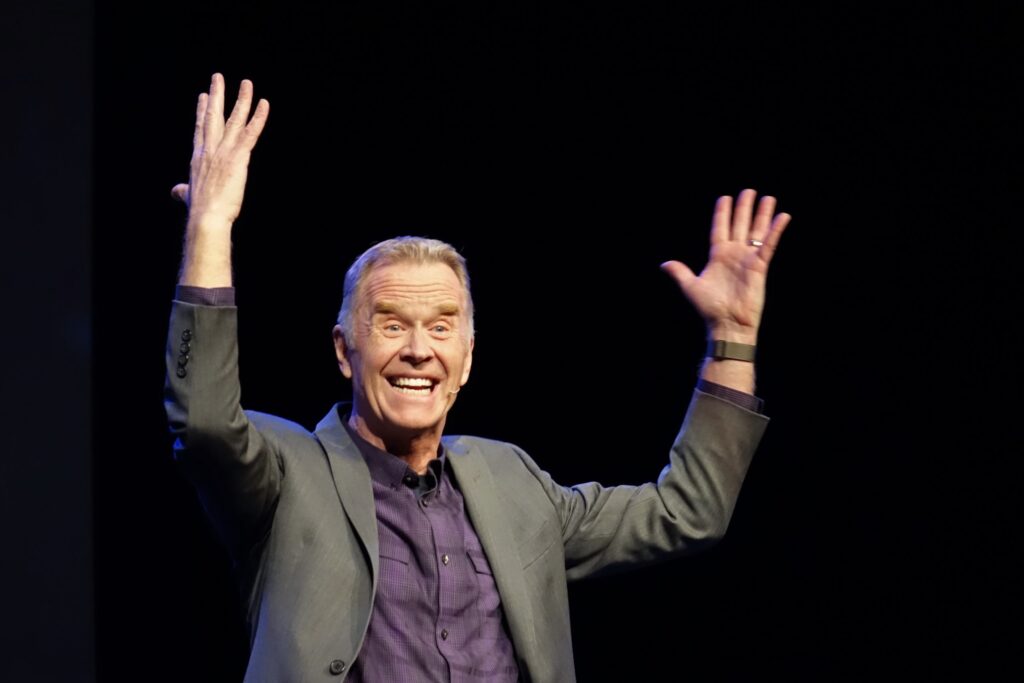 Tuesday Luncheon Entertainment
Bob Stromberg delights audiences of all ages with his unique personal style of speaking, storytelling, and humor. His presentation is clean, casual, characterized by humility, and a healthy blend of knee-slapping comedy and encouragement. In a word, Bob's remarkable gift is his ability to interact with an audience, develop a warm rapport, gather people together, and facilitate surprising laughter with an arsenal of gifts including physical comedy, a non threatening touch of audience participation and yes…even hand shadows, which the London Metro described as "stunning". Add to this hilarious, tender and thought-provoking stories from his own experience and audiences leave amazed and different than when they came.

In 1995 he co-authored the hit play "Triple Espresso, (a highly caffeinated comedy)". From its start in Minneapolis, Triple Espresso, described by the Los Angeles Times as "a triple jolt of inspired craziness" has been seen by over two million people in eighty cities from Seattle to London and, among many other honors, become the longest running stage production in the history of San Diego. In his role, the Chicago Sun Times described Bob as "a mesmerizing physical comedian".

Bob followed that with his solo show That Wonder Boy, which Culture Buzz described as "One of the most substantive comical one-man shows ever conjured." The show opened in several cities on its way to winning the three top awards, Off Broadway at United Solo Theatre Festival in New York City. It was later recognized as one of the top shows in the prestigious festival's first decade.

Bob lives in Minnesota with his wife Judy, occasionally still performs his theater shows, and travels extensively as a featured comedian. Throughout his career, it has been his joy to advocate for impoverished children through the transformational work of Compassion International.