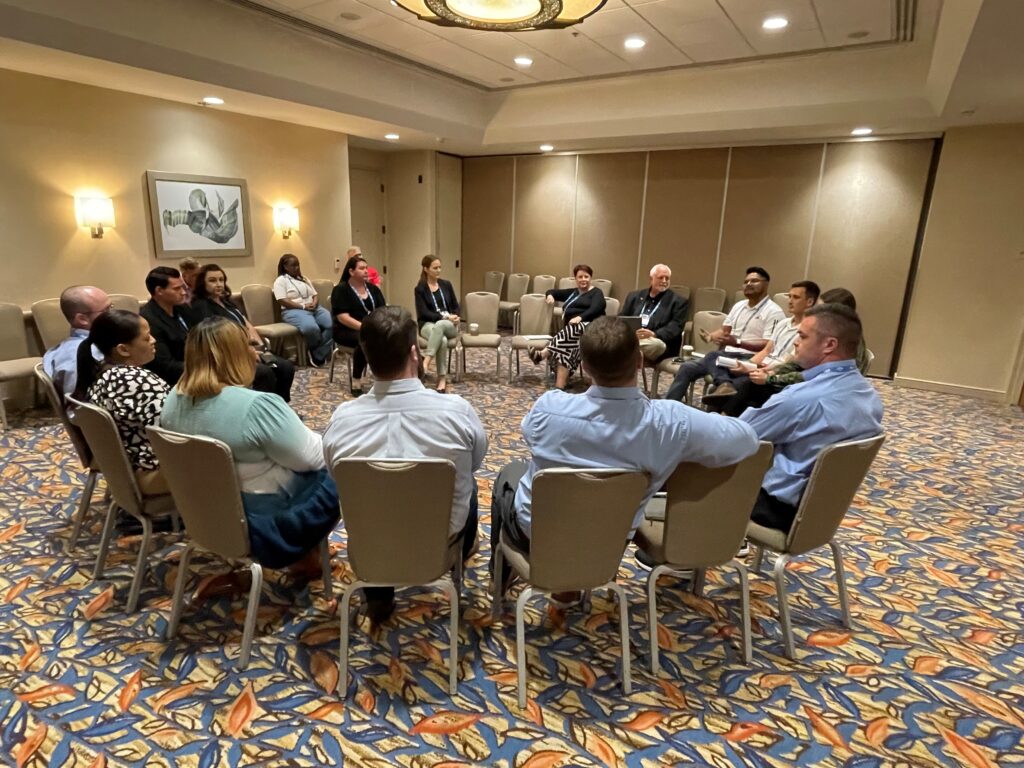 Back by popular demand in 2023!
Join fellow aviation professionals at the 2023 ACPC to share new ideas, perspectives and discuss topics, issues, and solutions in the ACPC P2P Chat Circles!
P2P Chat Circles allow for professional networking opportunities, information sharing and peer-to-peer learning. Peer-to-peer learning practices encourage connectivity and collaboration like nothing else. Each live conversation-style session is a time for attendees to ask questions, share their experiences, challenges, and resources to the topic at hand, learning from one another through a facilitated conversation.
Don't Miss this Unique Opportunity to:
Build a circle of peers you can share with and learn from.
Receive peer input and support from outside your organization.
Learn in a non-competitive environment.
Build collective, collaborate knowledge rather than learning from speakers.
2023 P2P Chat Circle Topics (Columbia & Duffy 7th Floor)
These conversation-style sessions are an opportunity to ask questions, share your experiences, challenges, and resources with other attendees who share similar issues.
Rising Leaders – Going from Peer to Boss: Have you recently been promoted? Transitioning from "coworker" to "boss" can be a lonely journey that leads to sticky situations and unique challenges for new managers. Learn strategies from your peers to help you navigate the transition more successfully.
Unique Challenges Faced by Women in the Workplace: (designed for women) It's no secret that women face unique challenges as business professionals. Discover ways to unlock your higher potential, raise your aspirations and gain inspiration from supportive female peers in a professional and safe space.
Career Success for Young Professionals: Are you a young professional in the aviation industry? Learn from your peers and gain new skills to enable you to excel in the workplace and make wiser, more future-oriented decisions.
Overcoming Remote Work Challenges: Working remotely requires you to take a different approach to the way you work. Join your peers to tackle the most common difficulties of working remotely and master tactics together to overcome them.
Pre-registration is NOT required. Arrive early! Capacity is limited.
Each chat circle is limited to 20 people.
Two consecutive chat circles are scheduled for the same topic during each time slot.
Once the first circle reaches capacity, a second circle is created in the adjoining space.
When the second circle is full, the P2P Chat Circles are closed for that time slot.
See the 2023 ACPC Agenda for more info, including dates and times!