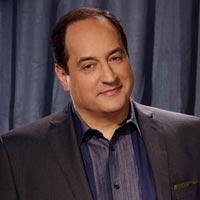 Monday Night Entertainment
Rocky LaPorte has been performing on the road as a top-notch, in-demand and enormously popular comedy club headliner, accumulating a trunk full of TV appearances from Cheers, Caroline's Comedy Hour and his very own The Rocky LaPorte Show, a pilot for CBS. He was also a Final 5 Finalist in Season 8 of Last Comic Standing.
In addition to club and television work, Rocky is a huge hit on the corporate show circuit utilizing his clean material and likeable style to win-over all audiences.
A former Chicago truck driver and dock worker, Rocky LaPorte's appeal comes from his every-man, streetwise style of comedy. Delivering his clean, blue-collar style of comedy in his trademark Brooklyn accent, he has become one of the most sought-after comedians in the country.
Rocky has opened for the likes of Louie Anderson, Garry Shandling, Drew Cary, Tim Allen, Hootie and the Blowfish, and the Righteous Brothers, just to name a few. He is does an enormous around of charity work as well for organizations including, St Jude's for Children, NFL Charities, homeless shelters, cancer research, and policy and fire department fundraisers